We are trekking into the territory of custom printed fabrics! The first one we are releasing is one we have received several questions about. This fabric is based on that worn by Vector in the upcoming video game Resident Evil: Operation Raccoon City.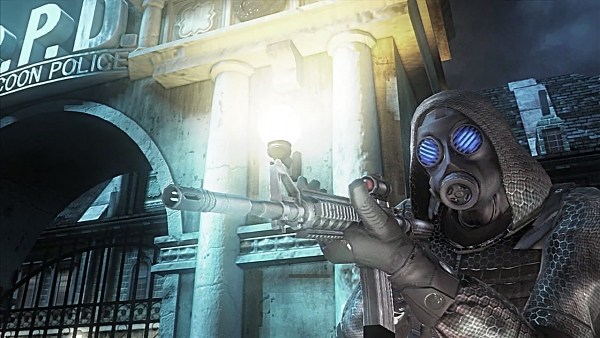 We're quite busy with commissions as of this date (December 2011 – if you're looking to hire us for a custom job, our earliest expected completion time is spring 2012!) but we're willing to take on custom Vector costumes by commission, or you can simply buy the fabric itself from us and make it yourself! This is the first time we are offering custom fabric, and we know some people like to take pride in making costumes on their own. A sample of our fabric is below.
Click the below image to view it in full size.
Please note that the hexagon print is not reflective! This is something we can't accomplish, unfortunately. But still, we feel this is the best option for a Vector costume by far.  Also, the actual size of the hexagons are just under one inch, just like the ones on his suit!
For those of you who want the best quality Vector fabric, we strongly suggest getting it in Upholstery Weight Cotton Twill. This is more expensive, but a worthwhile investment. This fabric is 58″ wide, and weighs 7.2 oz per square yard. It's the closest thing we can get to the fabric used for BDU's. It's 100% cotton, not part polyester part cotton. The cost of this stuff is $35 per yard + tax and shipping.
Then we have something for you guys on a tighter budget. We can also have this stuff made on Quilting Weight Cotton. This stuff is thin (think like a cotton dress shirt, or a kids Halloween costume even), and weighs in at 3.2 oz per square yard – it's also only 42″ wide, so you will need more yards to make your costume than you would with the heavier stuff. The print will look the same, but the durability and feel of this fabric is not as nice as the upholstery weight stuff. The cost of this is $20 per yard, plus tax and shipping.
Orders of 20 yards or more get 10% off, so if you want to pick up enough to do your own commissions, that's always an option!
Please note that CosBlade is not the actual fabric printer. We do this through an acquaintance, so basically you order it through us, we'll have it printed, shipped to us so that I can inspect it and make sure it's good to go personally, and then we'll ship it to you.
But how much fabric do you need?
Well, that really depends on your size and whether or not you're using a sewing pattern. If you're using a sewing pattern – GO BY IT'S INSTRUCTIONS! Here's a generalization if you decide to wing it without a pattern. We always suggest ordering an extra half yard or so, just in case you make a mistake.
HOODED JACKET
XS - 2 5/8 yards of the 42″ fabric -OR- 2 1/8 yards of the 58″ fabric
S - 2 3/4 yards of the 42″ fabric -OR- 2 1/8 yards of the 58″ fabric
M - 3 yards of the 42″ fabric -OR- 2 1/4 yards of the 58″ fabric
L - 3 1/8 yards of the 42″ fabric -OR- 2 3/8 yards of the 58″ fabric
PANTS
If you're using the 42″ fabric, 2 3/4 yards will suffice for sizes XS – L.
If you're using the 58″ fabric, follow the below guidelines:
XS - 1 3/4 yards (waist size below 28)
S - 1 7/8 yards (waist size 28 – 30)
M - 2 1/4 yards (waist size 32 – 34)
L - 2 3/4 yards (waist size 36 – 39)
Anything past a L, we can only guess. You're kind of on your own, unfortunately. We haven't made enough XL and larger garments to guess that for you.
So as an example, a guy (like our owner) who's 5'8″, 150 lbs. and usually wears medium size shirt and pants, would need 5 3/4 yards of the quilting weight cotton ($115 + tax and shipping) -OR- 4 1/2 yards of the upholstery weight cotton twill ($157.50 + tax and shipping).
That should hopefully give you an idea of the price you can expect to pay to make a single Vector costume, if you're a size medium. You can see how the price difference is sort of balanced out by the amount of fabric needed due to the width of the two options. To us, a price difference of about $45 (after taxes) seems a small price to pay for a significantly better fabric. But that's just our opinion. We wanted to provide options for people with different budgets, so hopefully we've done that!